Our ambition
Our ambition is to build equitable workplaces and to achieve equity, diversity and inclusion in everything we do. If we had to sum up what we're trying to achieve in our workplaces, we'd call it 'belonging' – a deep sense of inclusion, so everyone receives fair treatment, fair access, and fair opportunities.
At the heart of this approach is our commitment to equity at every stage of our your career, through:
Our policies and practices, by removing barriers and bias from all existing policies and practices which impact employees' experience
Our employee experience, by establishing leadership accountability for equipping and supporting our employees to excel in their roles and contribute to the growth of the business
Our talent attraction, recruitment and selection, development and career progression by removing barriers and exclusionary practices in all markets
In representation and retention, by seeking to make our workforce fundamentally representative of the populations in the geography in which they operate, and of their customer base
Our ambition includes abiding by our Code of Business Principles, which states that we will recruit, employ and promote employees on the sole basis of the qualifications and abilities needed for the work to be performed. Find out more about our Business Integrity and Code of Business Principles here.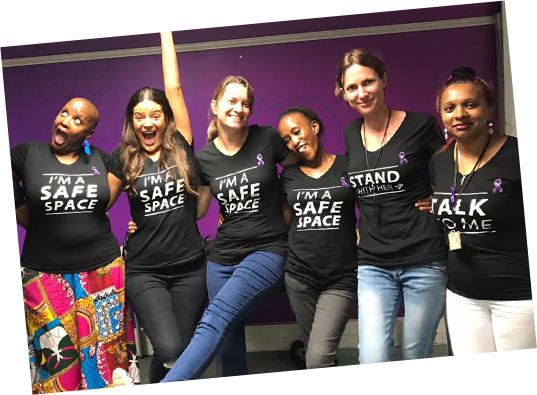 Focusing on the
under-represented
At a global level, we've identified four focus areas for our Equity, Diversity and Inclusion strategy: gender, race and ethnicity, people with disabilities, and LGBTQI+ communities.
We're working to address the challenges of these groups' under-representation at all levels of our organisation. However, we know that under-representation is not confined to people in these groups alone – so our approach supports each of our markets in identifying who is under-represented or excluded, and why.
Equitable workplace
Driving an equitable workplace
We have a vision to drive a workplace that is more equitable by transforming the way we think. We're tackling social inequality and unfairness while empowering those who are under-represented simply because of who they are. How? By not only transforming our brands and products, but by working together to instil a deep sense of belonging.
#Unstereotype
We believe that stereotypes, unconscious bias and outdated social norms are the biggest barriers to inclusion. Our internal #Unstereotype the Workplace campaign aims to break them down, just as our external #Unstereotype initiative aims to break stereotypes in the way we portray women and men in our advertising.
Women in the workplace
Women make up 70% of the people who buy our products and 50% of our talent pool – and our target is to reach a 50/50 balance between women and men working for us. By having a more balanced workforce, we make sure that unconscious bias has no part in any of our projects.
Women in leadership
We're very proud to have reached equal representation of women and men among our 14,000 managers, having 51% women managers across our business. We'll continue to work towards equal opportunities for women through training, our gender appointment ratio and market-and-department-specific targets.
Gender equality
Our Maternity and Paternity Support Programme makes the transition to parenthood easier for our employees. We offer 16 weeks paid maternity leave, a Global Maternal Wellbeing Standard, a Global Paternity Leave Standard and standardised paternity leave. This is how we change a culture for fathers who want to spend time with family. This commitment to treating women and men equally continues with our payment, ensuring pay reflects performance and skill.
Living with a disability
1 in 7 people worldwide live with disabilities. That's 15% of the global population. Our aim is to be the number one employer of choice for people with disabilities, and to increase the number of employees with disabilities to 5% of our total workforce. We'll do this through our Disabilities Inclusion Programme, our commitment to building a culture free of stigma, our employee resource group Enable@Unilever and our I AM ME campaign.
Fairness in the workplace
Fairness in the workplace is about respecting the rights of all those who work with us. Millions of people work in our operations and extended supply chain, helping us create the products used by billions more. For us, fairness means fostering a workplace where everyone feels safe and valued, it means doing Human Rights Impact Assessments, challenging ourselves to improve processes and doing right by our people.
Achieving racial and ethnic diversity
Unilever takes a stand against racism and aims to be a multicultural and inclusive company. Our target is that all races and ethnicities are fully represented at every level of our organisation – and our Racial and Ethnic Equity Taskforce helps us drive awareness, education and inclusion across our workplaces and beyond.
Taking action to include LGBTQI+
We believe that our workplaces should reflect the rich diversity of our society – and we see that as one of our greatest strengths. We want to provide an environment where every employee is able to bring their true authentic self to work, and we are committed to fighting for equal treatment for the LGBTQI+ community. proUd is our global employee resource group with the mission of being 'a beacon of inclusion for people in the LGBTQI+ community and allies, amplifying their voice in society and at Unilever. It has local chapters all over the world, involving hundreds of employees.
Connect with us
We're always looking to connect with those who share an interest in a sustainable future.
Contact us
Get in touch with Unilever PLC and specialist teams in our headquarters, or find contacts around the world.
Contact us