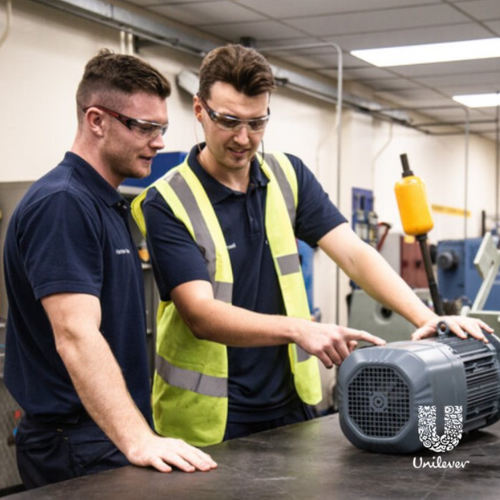 Level 3 Engineering Technician – Mechatronics Maintenance Technician Apprenticeship
What you can expect?
Mechatronics Maintenance Technicians ensure that plant and equipment perform to the required standard to facilitate production targets regarding Safety, Quality, Delivery and Cost within High Value Manufacturing environments.
Typically, the work would cover a broad range of activities including installation, testing, fault finding and the ongoing planned maintenance of complex automated equipment. This requires the application of a complex blend of skills, knowledge, and occupational behaviours across the electrical, electronic, mechanical, fluid power and control systems disciplines.

What you will study, for example:
Compulsory units include:
Carrying out fault diagnosis on engineered systems
Carrying out preventative planned maintenance on engineered systems
Assembling and testing fluid power systems
Maintaining mechanical devices and equipment
Wiring and testing electrical equipment and circuits
Hydraulics and pneumatics
Programmable Logic Controller (PLCs).
What qualifications will you acquire at the end of the programme?
Level 2 Diploma Advanced Manufacturing & Engineering (Foundation Competence).
Level 3 Diploma in Advanced Manufacturing Engineering – Mechatronics Maintenance Technician (Development Competence).
Level 3 Diploma in Advanced Manufacturing Engineering (Development Knowledge).

Entry Level Requirements
Require both of the following:
GCSE English Language C or 4 or above.
GCSE Maths C or 4 or above on the Higher Maths Paper Only.
Plus
Applicants are required to successfully complete the University of Sheffield AMRC and employer recruitment and selection process to secure a place on an apprenticeship programme.
Hiring Locations
Port Sunlight
Leeds
Gloucester
Burton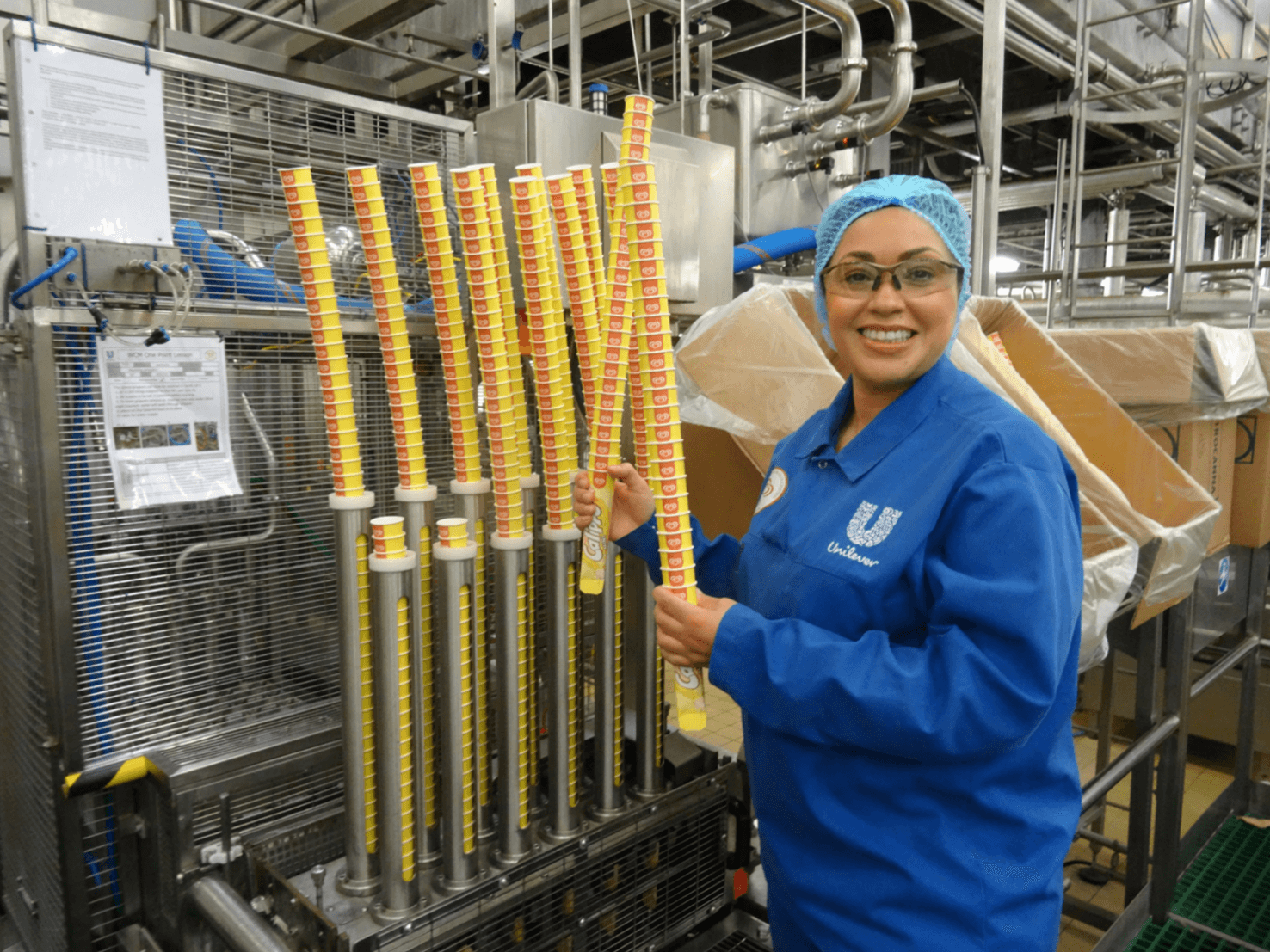 Level 3 Food & Drink Technical Operator Apprenticeship
About the role:
This food and drink apprenticeship programme is based at Gloucester factory, within the operations team, helping to produce some of the world's best-known ice cream brands.
Apprentices gain knowledge and skills associated with food factory processing, automation, management, quality assurance and new process development. In addition, production operations, including setting up and performing operational maintenance on food machinery.
Completing this apprenticeship programme is a great way to gain hands on workplace industry experience whilst earning as you learn and firing up your career.
What you can expect:
The broad purpose of the Food & Drink Operator is to support the manufacture of quality food and drink products. Food & Drink Operators conduct start-up, close-down, changeover, and handovers in the manufacturing process, often using highly automated equipment and technology, but also working with traditional processing methods. They keep the manufacturing process running through operating machinery, front-line fault diagnosis and resolution, asset care, and performing basic maintenance.
A key focus for food & drink operators is food safety, through application of Good Manufacturing Practices (GMP) and Hazard Analysis Critical Control Points (HACCP) and monitoring and evaluating the feedback and results.
As they operate in a regulated environment, they may be involved in conducting internal and supporting external audits to demonstrate compliance. This also involves completing and updating documents, risk assessments, and completing traceability records.
Food and drink manufacturing is often a team activity. Food & drink operators may also help to develop and support others through training and setting an example. They strive to continuously improve performance and quality (considering safety, quality, driving value). They support the implementation of new products or processes. During incidents, such as product recalls, fires, accidents, or near misses, they implement incident management procedures. Manufacturing process technicians will spend time on the production lines and off-line while working on activities such as projects.
In their daily work, they interact with process operatives, other operators, and site teams. This may include engineering, maintenance, production, technical and quality, research and development, packaging, and supply chain teams. They also interact with auditors, regulators, and customers undertaking site visits. They typically report to an operational manager and work with autonomy.
An employee in this occupation is responsible for working as part of a team to manufacture safe and compliant products, meeting the customer and consumer expectations. They work to meet deadlines, productivity, efficiency, hygiene, and environmental requirements, and ensure the health and safety of self and others.
As an expert in an organisation's products and or services, they share knowledge and feedback with their team and colleagues, gather and analyse data and customer trends and information, which influences innovation, change and improvements. Utilising a range of organisational management information systems and IT services, carrying out their role with awareness of technology within your environment, from front desk, retail, webchat to laboratory services and business support, this programme develops knowledge, skills, and behaviours to increase expertise in this field of work.
Duties, for example:
Prepare and run food and drink manufacturing line including hygienic practices, start-up, close-down, changeover, and handovers of manufacturing process.
Monitor and record results of Critical Control Points in food and drink manufacturing.
Control stock, for example, intake of goods, storage of goods, entering information into management systems.
Resolve 'front-line' faults, relating to machines, raw materials through to finished product, people or packaging directly or via escalation. Identifying the root cause where needed.
Assist maintenance engineers by conducting first line mechanical engineering maintenance – preventative and reactive. For example, planned maintenance, repairs, and overhauls.
Operational improvement and performance.
Develop and support others.
Conduct audits in line with industry standards.
Support business projects and implementation. Undertake Continuous Improvement.
What apprenticeship standard will you obtain at the end of the apprenticeship programme
Awarded by Institute for Apprenticeships and Technical Education, apprentices will achieve a Level 3 (Advanced) Food and Drink Technical Apprenticeship Certificate.
Entry level requirements:
GCSE English and Maths Grade 4 or above (or equivalent).
Plus
Applicants are required to successfully complete provider and employer selection to secure a place on an apprenticeship programme.
Location: Gloucester Factory Corinium Ave, Gloucester GL4 3BW
Things to consider
Apprentices will be required to attend off job residential training at the National Food Manufacturing Centre, Holbeck, Spalding, Lincolnshire. This will require apprentices to reside in overnight hotel accommodation, at least 1 week, 3 times per academic year.
You may be required to work 12-hour day and night shifts.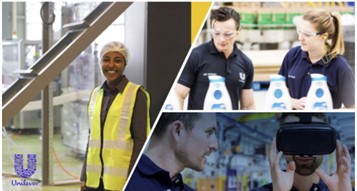 Level 6 Product Design Development Apprenticeship

Hiring Location: Sharnbrook, Bedfordshire (Colworth Science Park)

About the role:

This Unilever R&D apprentice position is based at Colworth Science Park, Sharnbrook (Bedfordshire) within the Ice Cream R&D Centre, as part of the Packaging and Systems team. With the growing focus on climate, packaging and GHG emissions, you will support our teams in design and the application of new technologies to drive innovation in more sustainable packaging and transforming our Ice cream cabinets to reduce energy usage and environmental impact. There will be a focus on developing engineering skills, design, materials knowledge, supply chain understanding and digital technologies and will also include development, testing and working with 3rd Party Manufactures and Suppliers.

Product Design and Development Apprenticeship

Product design and development engineers use engineering techniques to bring new products to life or redesign existing products.

Product design and development engineers work on all stages of product creation, product modification and product componentry. They support activities ranging on early concept feasibility, Computer Aided Design (CAD) and other modelling, activities, and stages through to final preparation for launch and customers. This includes working in concept studios, rapid prototyping, assembly, testing, validating, and analysing performance. Typically, they work closely with suppliers and managers in bringing new concepts to life or contributing to redesigns of existing products. To complete this apprenticeship, you will study.

Bachelor of Engineering (BEng) in Manufacturing Technology which focuses on manufacturing technology design and operation for all major classes of manufacturing processes, including casting, machining, forming, joining and additive manufacturing; and for all relevant classes of materials including polymers, composites, ceramics, and metals.
This study is underpinned by fundamental theories of physical principles including thermodynamics, statics and dynamics, numerical methods, control, and instrumentation.

Graduates will be able to apply a broad understanding of technical, economic, social, and environmental implications of manufacturing technology, to contribute to a competitive and sustainable manufacturing industry.
What will you study:
Year 1 – Engineering mathematics and computing. Electrical engineering and instrumentation. Manufacturing processes and materials engineering. Fundamentals of science for engineers. Professional development for engineers. Introduction to design and CAD/CAM. Operations management.
Year 2 – Further mathematics and computing for engineering. Control and automation. Professional engineering and sustainable manufacturing, Multidisciplinary project. Manufacturing systems. Further science for engineers. Machining, joining and thermal processing.
Year 3 – Supply chain management. Further non-metallic component manufacturing. Industry 4.0. Industrial project and Project management. Design of Composites, Mould and Tooling Design, or Lubrication and Wear.

Entry Level Requirements:

Require one of the following:

A minimum of two A-Levels at grade 6 (or B) or above, including a mathematical-based subject and a science, technology, engineering, or an additional mathematics-related subject

An Engineering BTEC Level 3 with at least 120 credits at DM (Distinction Merit) level or above

EAL Diploma in an engineering-based subject at D (Distinction) level
Equivalent qualifications such as Cambridge Technical Levels at DM (Distinction Merit) or above.

Plus, A minimum of three GCSEs at grade 5 (or C) or above, in mathematics, English and a science, technology or engineering-related subject.
In addition, applicants are required to successfully complete the University of Sheffield AMRC and employer recruitment and selection process to secure a place on an apprenticeship programme.

Candidates with an HND or Foundation Degree or who have completed the second year of a degree in a relevant subject can be assessed for direct entry onto the 2nd year or 3rd year of the programme (BEng top-up), but 1st year entry or an alternative pathway may still be recommended.

Candidates who have not studied in the UK can submit transcripts for qualifications equivalent to level 3 which the admissions panel will review and may be taken in lieu of the specified qualifications.

Things to consider: Unless exemptions apply, year 1 apprentices are required to live full time in Sheffield for the first 24 weeks (6 months) in university accommodation so that they can attend the University of Sheffield AMRC Training Centre in Sheffield.
Future programme years apprentices are required to continue attending the University of Sheffield AMRC Training Centre in Sheffield, for example, 1 or 2 days per month which will require travel and overnight hotel accommodation.
Please note the AMRC Training Centre reserves the right to close applications ahead of the published closing date.

Location Sharnbrook, Bedfordshire (Colworth Science Park)